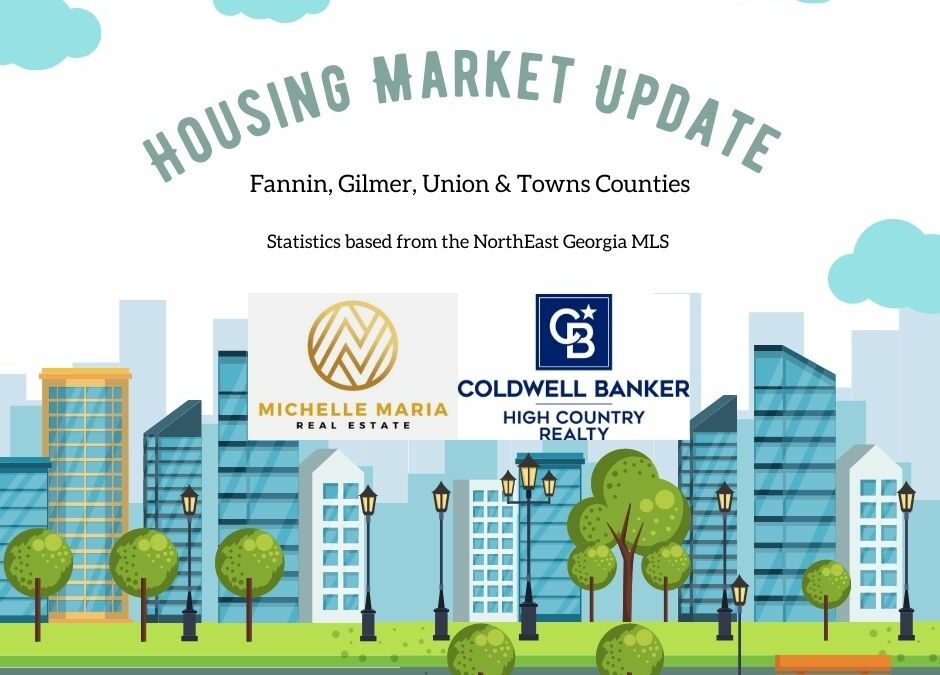 Monthly Market Update
Monthly Housing Market Statistics Update for Union, Towns, Fannin & Gilmer Counties in North Georgia Mountains.  Data provided by NEGBOR and presented by Michelle Miller Real Estate at Coldwell Banker High Country Realty.
Information Includes Individual Monthly Statistics on the following categories:
– New Listed Properties
– Average Sale Price
– Number of Sold Properties
– Average Days on Market
*Michelle Miller is a Global Luxury Property Specialist & Certified Luxury Home Marketing Specialist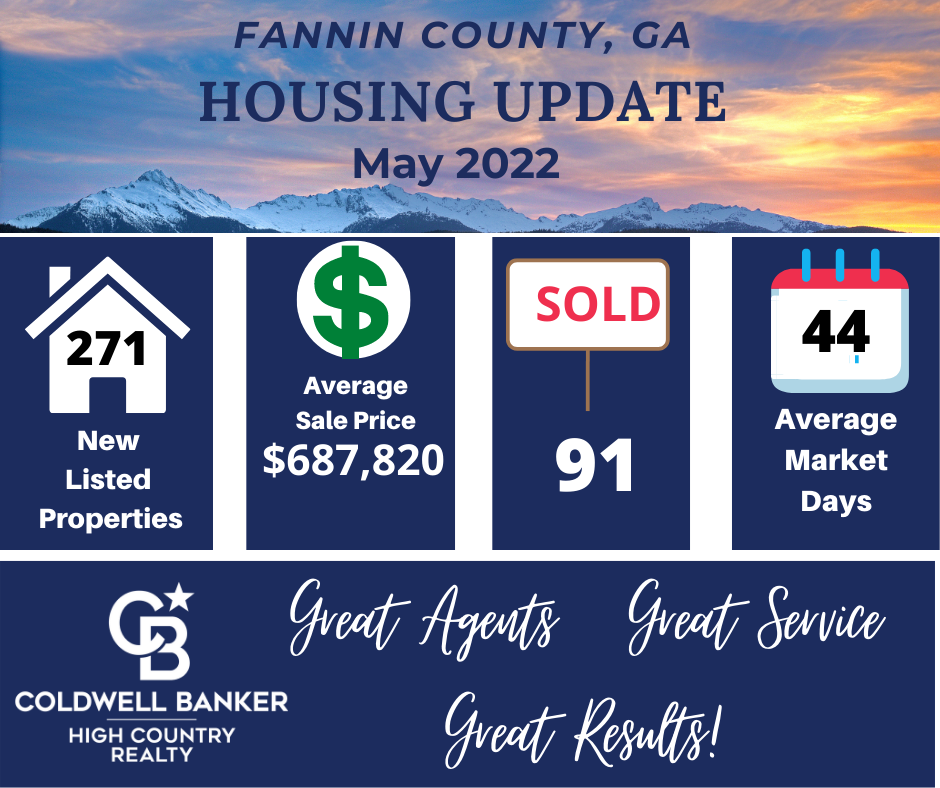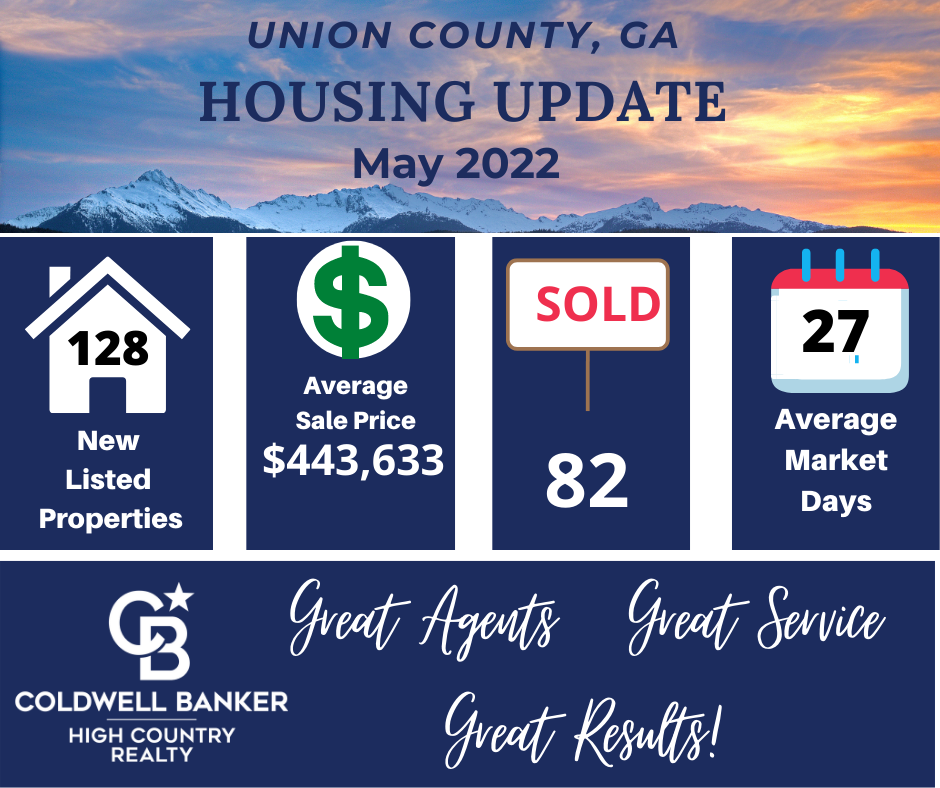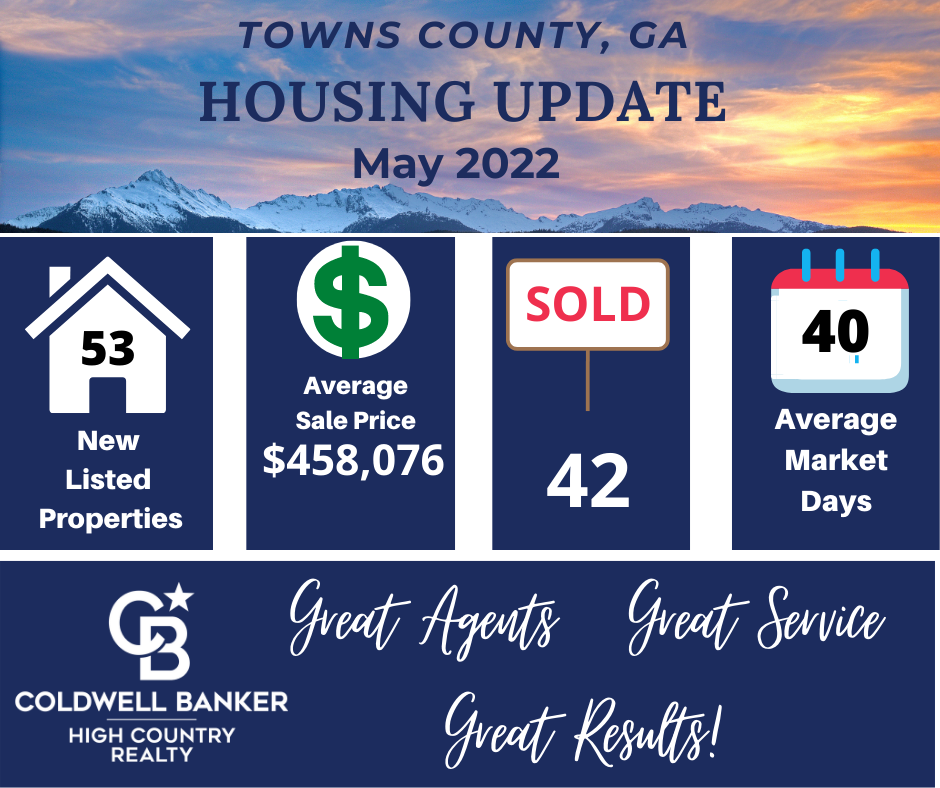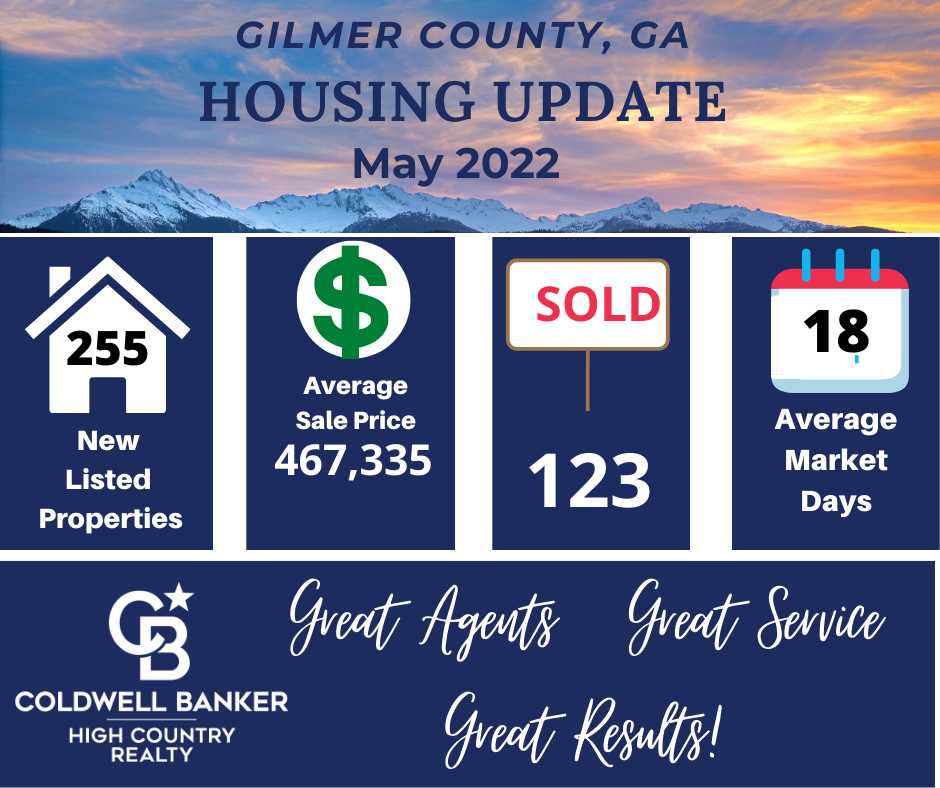 Monthly Market / Executive Summary by County / May 2022
FANNIN:  The number of transactions in May dropped to 98.  That is the lowest number, except for 95 in January, since Covid (May 2020).  For comparison, the average number of monthly transactions in 2021 was 118. 
The average price though ($495,704), while under the March and April levels, was on par with the months before March.  Still, it would appear that the high relative prices in Fannin are affecting its number of sales transactions more noticeably than the other mountain counties.
UNION – Union also had a strong month in May. Units closed (97) was the best so far this year, and would have come in 5th place in 2021. Average price also was strong ($293,610), and in fact was higher than half the other months this year and all the months last year.
TOWNS – Towns had a strong month in May. Units closed (45) was on par with prior months, and the average price ($336,347) was higher than all but 3 months of the last 17.
GILMER – The number of Gilmer closings (127) is holding strong, and is on par with the monthly average of last year.  Gilmer's average price rose to $305,481, which is higher than 8 of the previous 12 months. 
Rental Statistics for Fannin County – May 2022
Information Provided by Fannin County Chamber of Commerce.
Due to completed New Construction, and homes being purchased by investors and converted to rentals, the supply of houses & cabins for vacation rental has increased 30%-35% just over the last year.
Fortunately, bookings increased nicely by 26%-31% too, but since that wasn't quite as high as the increase in supply, we saw a reduction in the occupancy rates.
Despite still strong occupancy and revenue in May, it looks like the arrivals (people visiting Fannin Co., even for a day only) during the January – April period were down (-23%).
And, amazingly, it looks like the average daily rate has held up well in both Fannin and Gilmer.  So, I'd say we remain an amazing place to visit, and also still an amazing place to invest in the vacation rentals business.
For a PDF copy of the Blue Ridge – Fannin County Tourism Statistics, please email a request to michellemariarealtor@gmail.com.
Click here For Important Local Information & Articles.