Monthly Housing Market Update
February 2023 
Monthly Housing Market Statistics Update for Union, Towns, Fannin & Gilmer Counties in North Georgia Mountains.  Data provided by NEGBOR and presented by Michelle Miller Real Estate at Coldwell Banker High Country Realty.
Information Includes Individual Monthly Statistics on the following categories:
– New Listed Properties
– Average Sale Price
– Number of Sold Properties
– Average Days on Market
*Michelle Miller is a Global Luxury Property Specialist & Certified Luxury Home Marketing Specialist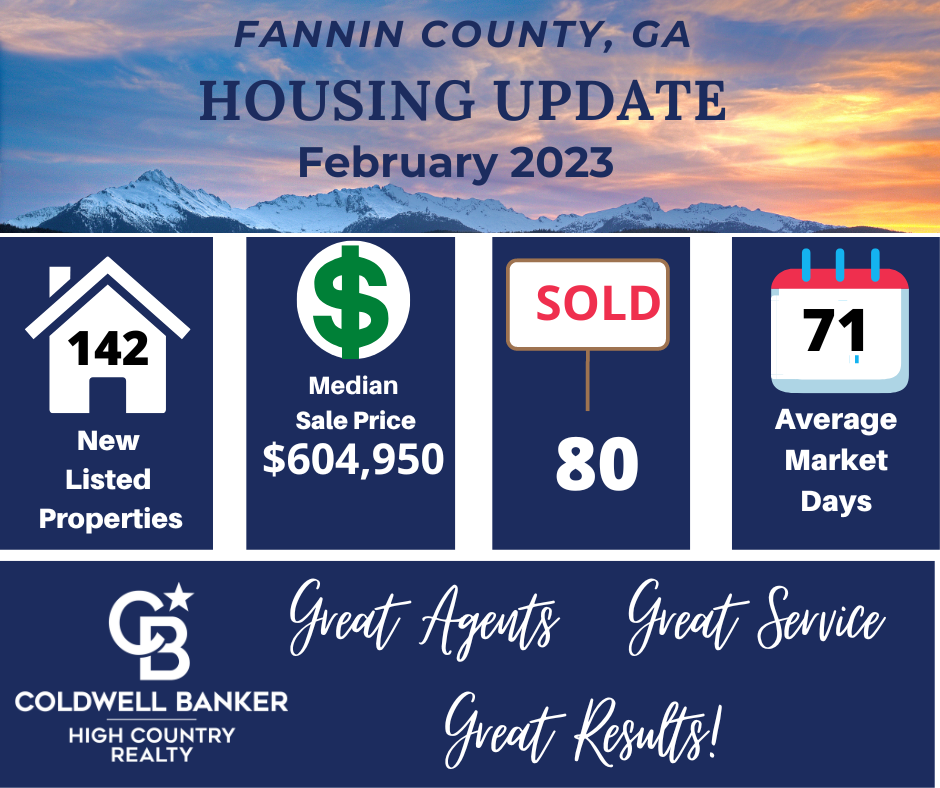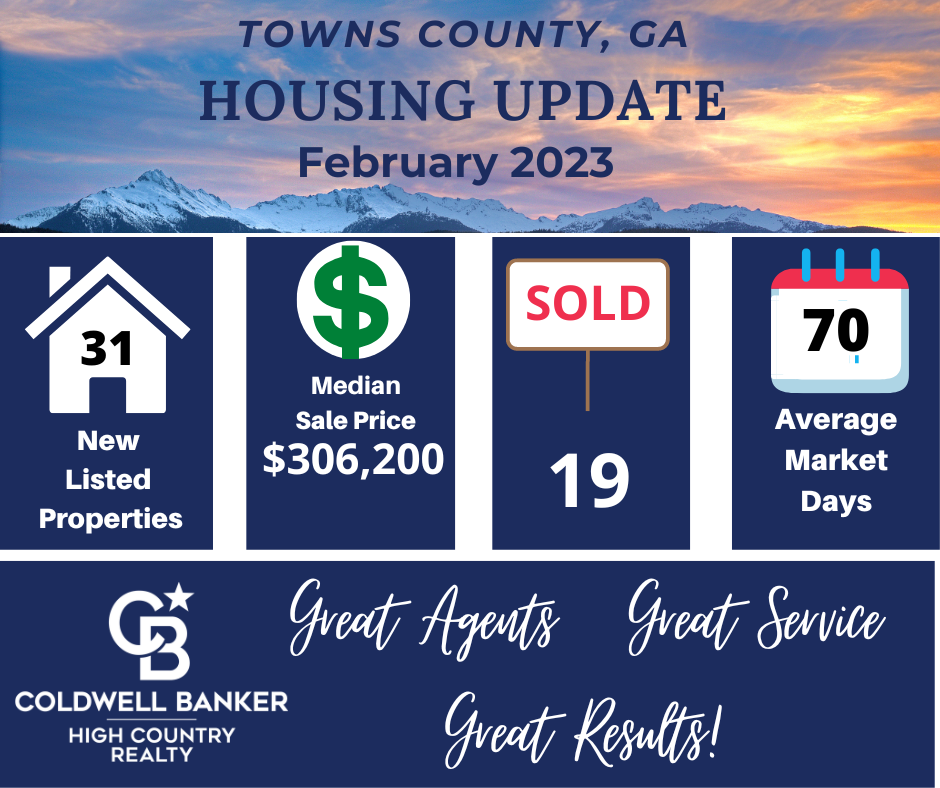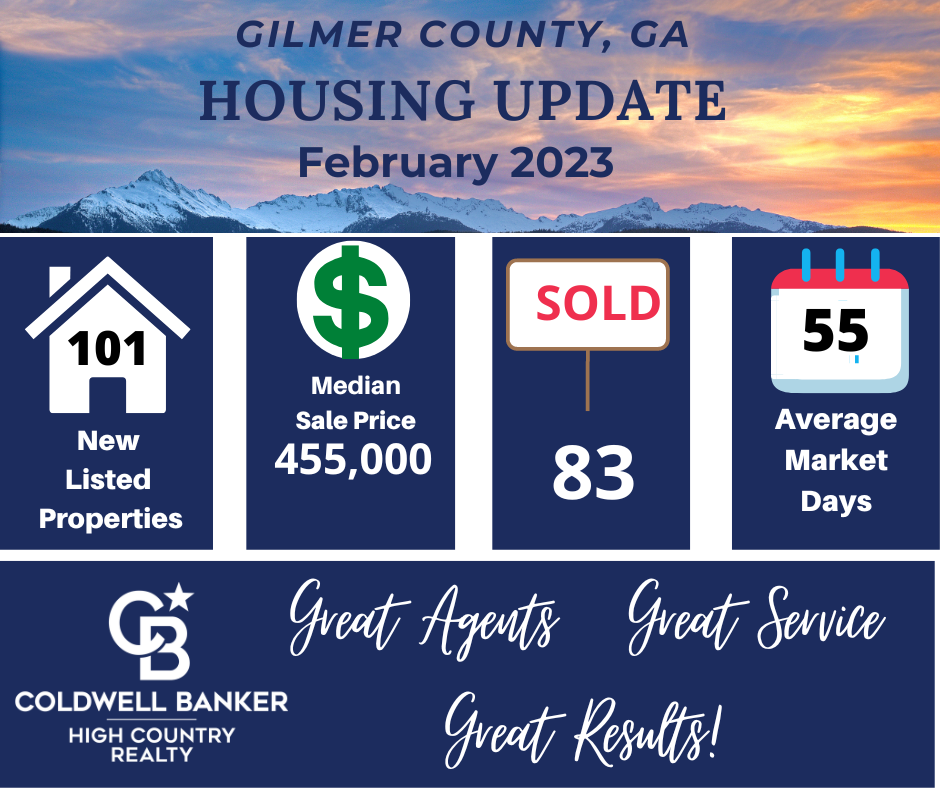 Monthly Housing Market Update 
Executive Summary by County / February 2023
FANNIN:  Fannin County is now seeing slowing sales units and also softening prices.  The average transaction value in February was 9% lower than in February 2022.  It doesn't feel that way on pricing, but that's what the statistics say.  
UNION – has seen volumes drop 13% from January, and 50% from a year ago, but prices have held pretty steady.  Not much up, but also not much down, prices are kind of wiggling along level over the course of the last year. 
TOWNS – had a small drop in volumes from January, but that was stacked upon other volume declines so that the transaction count in February was 53% lower than February 2022.  While average prices are still down 20% from a year ago, the good news is that prices rose in February 23% from January.  So, the balloon may be reinflating some in Towns.
GILMER – is looking good.  Even though volumes are lower than last year, the February activity leapt by 35% over the very flat January, and also prices are still inching upward.  February average transaction price was also 35% higher than one year ago!
Residential:  Overall, and despite all, the average residence sold in February across our MLS was valued 3.5% higher than in January and 3.2% higher than one year ago, coming in at $462,861.  Even though not ripping in sales units as in the last two years, I'd say those prices reveal a stubbornly strong real estate market in the mountains.  What a great place to invest one's hard-earned money!
Lots and Land:   The average transaction price of the very broad category of lots and land is now running a little lower than over the past year but the mix of types of land & lots makes such a difference in this statistic that it's hard to determine a clear trend.  Interestingly, though, the average per acre price in February went up to $15,441, which is 5% higher than January and 4% higher than one year ago. 
Rental Statistics for Fannin County / Gilmer County
Information Provided by Fannin County Chamber of Commerce.
FANNIN & GILMER SHORT TERM RENTAL (STR) RANDOM STATS Jan. 2023
Economic Impact in Fannin Co. in 2021 was $272.5 million. The hotel/motel/cabin tax revenues are
already up 17.5% from Nov'21 to Nov'22, so it is expected that the economic impact will come in at least
15% more for 2022; that's well over $300mm impact –  just in Fannin Co.!
Fannin County Chamber of Commerce wrote recently, "The Coronavirus pandemic actually doubled
overnight visitation from 2019 to 2021. Visitors were drawn to outdoor destinations within driving
distance, and especially to those with vacation rentals."
I, personally, do not believe the economic impact statistics above include the significant construction impact
just for new rental cabins. The Chamber of Commerce director in Gilmer Co. said she had very recently been
contacted by an investor saying he has plans to construct 15 new cabins in Gilmer Co.
Available units in Nov '22 for STRs in Fannin was 2,624, up 21% from 2021. (1 yr)
Nights demanded was up 19% and total revenue was up 21.9% .  Available units in Nov '22 for STRs in Gilmer (including Cherry Log) was 1,515, up 93% from 2020. (2 yrs)
Occupancy rates:
Fannin 2022 = 56%        Gilmer 2022 = 61%
Fannin 2021 = 60%        Gilmer 2021 = 74%
Reduction due to the addition of so many units available.
Huge growth in units available attributed to:
– new units built 
– converted units (residence or second home converted to rental)
– newly reporting units   (prev under the county tax radar, but now counted due to new law in Ga, effective mid-2021, requiring virtual rental company's like VRBO & AirBnB to report and pay the occupancy taxes)
Click here For Important Local Information & Articles.