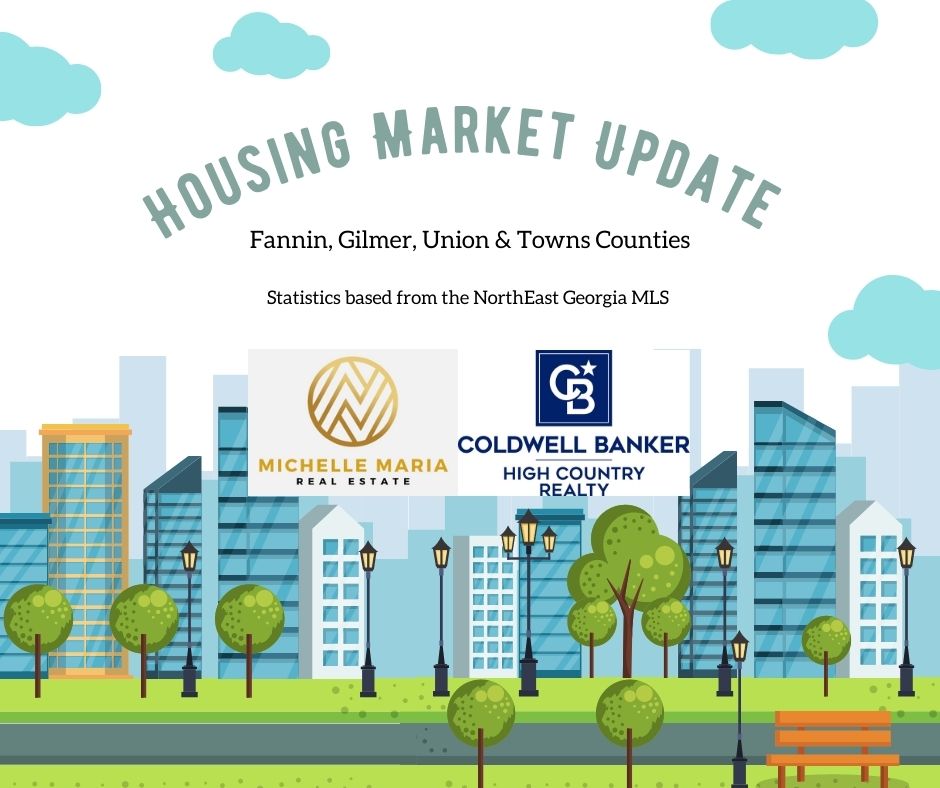 Monthly Housing Market Update
Monthly Housing Market Statistics Update for Union, Towns, Fannin & Gilmer Counties in North Georgia Mountains.  Data provided by NEGBOR and presented by Michelle Miller Real Estate at Coldwell Banker High Country Realty.
Information Includes Individual Monthly Statistics on the following categories:
– New Listed Properties
– Average Sale Price
– Number of Sold Properties
– Average Days on Market
*Michelle Miller is a Global Luxury Property Specialist & Certified Luxury Home Marketing Specialist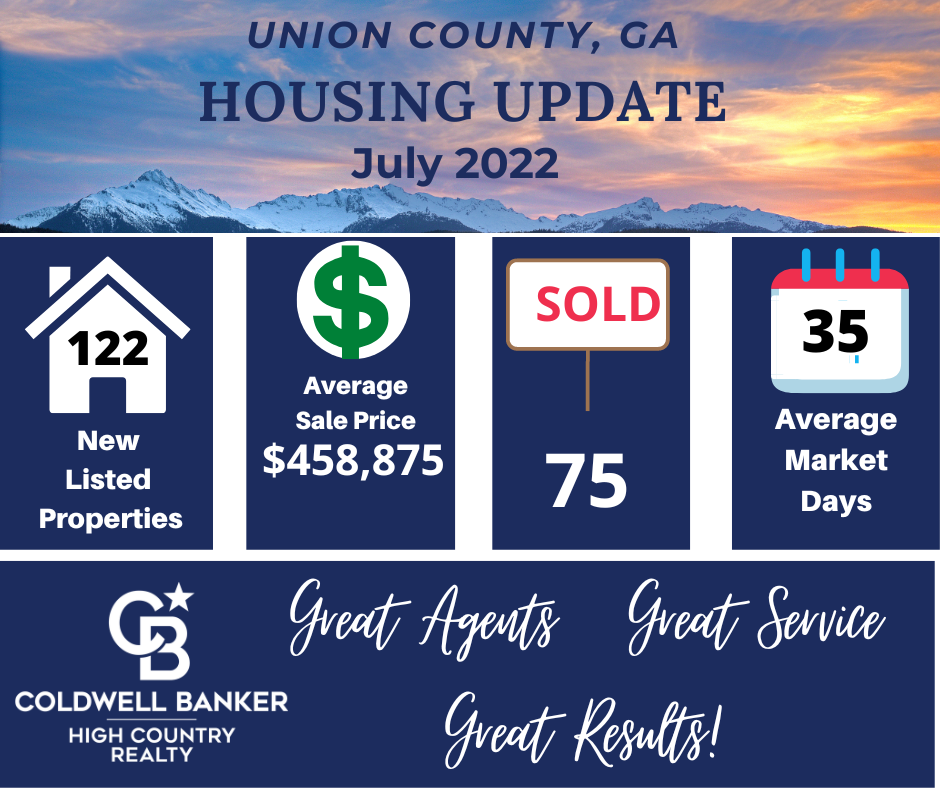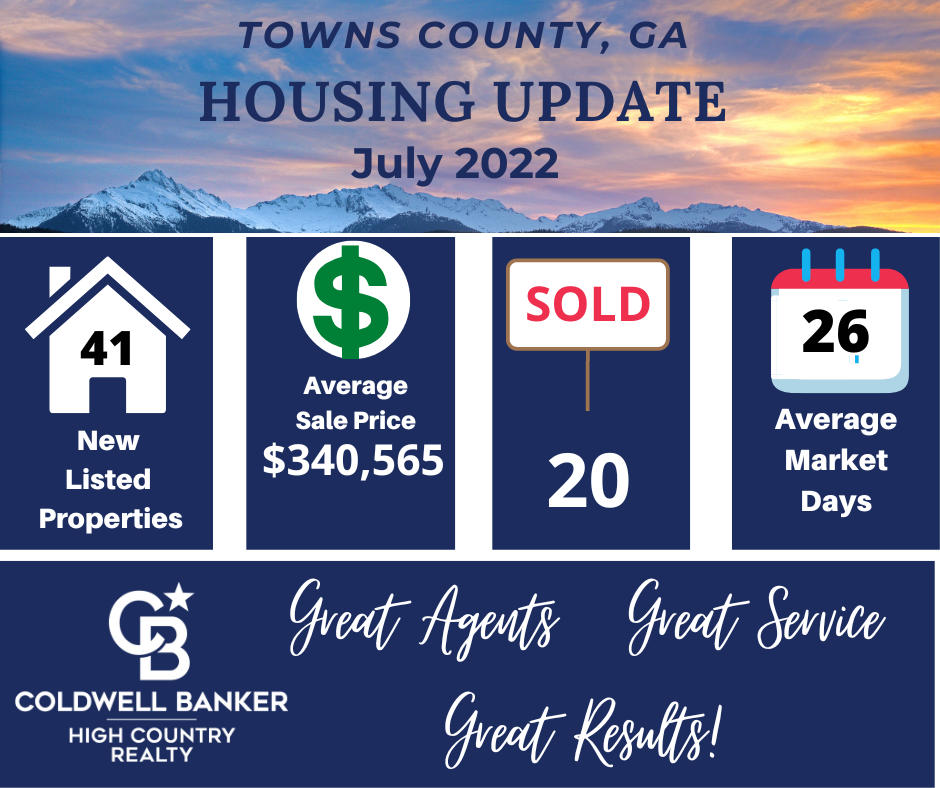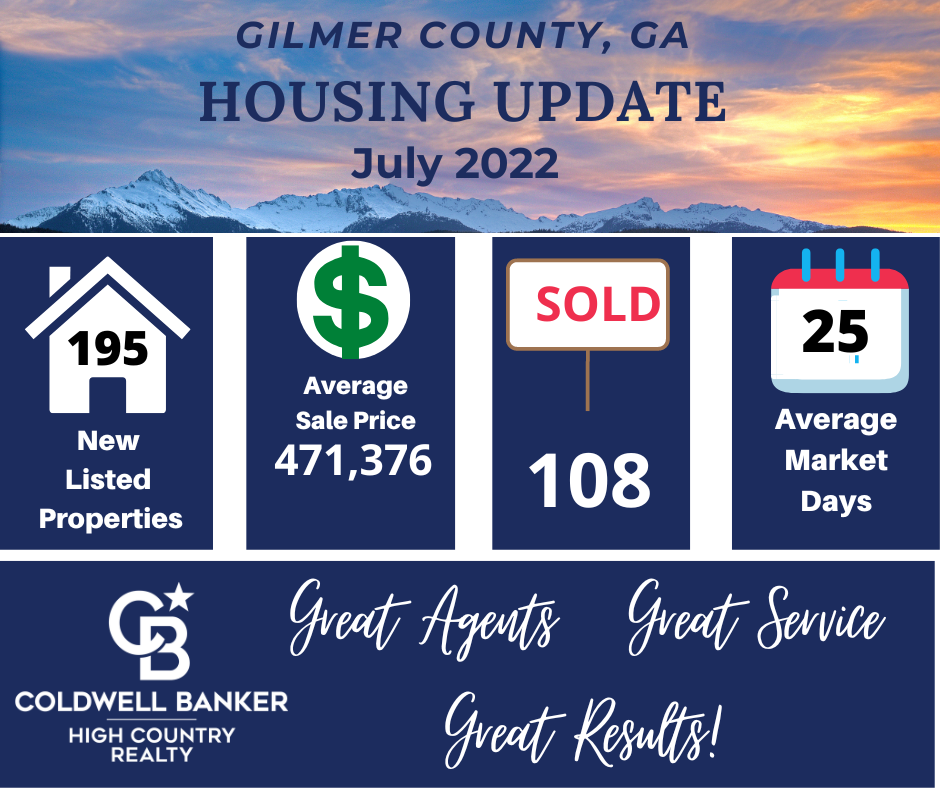 Monthly Market / Executive Summary by County / July 2022
1.  Active listings are holding steady at 3,934, which is less than 1% different from last month or last year this time.
2.  Foreclosure listings continue to drift down slowly.  
3.  Pending/contingent contracts now total 766, which is 30 less than last month.  This time last year there were 1,009 lined-up.  
4.  Correspondingly, the actual closings done in July were down also to 457, which was 9% lower than June and 19% lower than last July (2021).
5.  Total dollar volume closed was 19% lower in July than in June, and 15% lower than a year ago.
6.  Average transaction price across all types of property and all counties in our MLS was $331,823.  The number itself isn't very important except in how it compares to other periods, thus showing any trends.  So, July's number while lower than June's number, still happens to be 5.3% higher than last July's average price of $315,047. Up 5% after or in the midst of a slowdown, and it is also still a higher average price than all the months this year except April and June.
7.  The ratios, i.e., price-to-list and price-to-original, have softened some, but really less than 1%.  
8.  Residential Average Prices have drifted lower.  In July they were $455,054, while the average of all residential transactions in the first half of the year was $474,167.  This is a softening of 4.2% in July.  
9.  Lots and Land:  Average price per acre is just barely lower than it was last month (June), at around  $15K+/acre.  Again, this is a roundabout number which includes commercial, subdivision lots, raw land, river, lake, etc., so it's the trend that's important.  The trend right now seems to be just sideways on land values.
County-by-County  (July 2022 compared to last July 2021) :
Fannin … 21%  fewer transactions, but a 2% higher average price.
Gilmer …  19%  fewer transactions, but a 22% higher average price.
Towns …  48%  fewer transactions, and also a 12% lower average price.
Union …  1%  fewer transactions, but a 13% higher average price.